​May 2019Noite de Fado - Fado Night

​ Carlos do Carmo
with
Ana Sofia Varela

SATURDAY, 8PMMAY 6, 2017atZeiterion Performing Arts CenterNew Bedford, MA

By popular demand, fado super star Carlos do Carmo returns to The Z!

Known as "the Sinatra of fado," Do Carmo's career spans decades with a reach far beyond his homeland – he was, after all, the first Portuguese artist to receive a Latin GRAMMY® Lifetime Achievement Award.
Do Carmo brings with him the sensational Ana Sofia Varela for a beautiful evening of fado!





May 2017Noite de Fado - Fado Night ​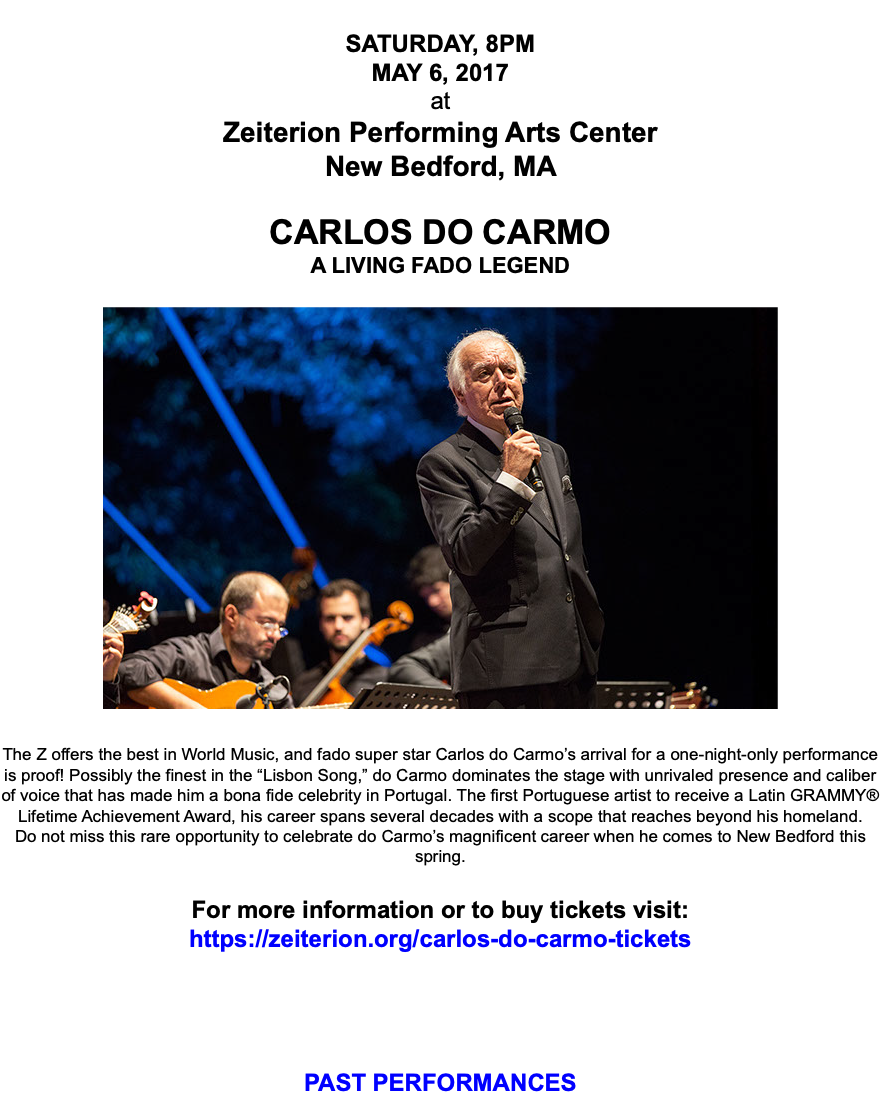 Listen to fado music in Boston area, Cambridge, Fall River, Lowell, New Bedford, Peabody, New Bedford, Newington, Providence ....
​

​
​​

Portuguese Fado, an old form of urban folk music in Portugal, was born in the streetsand back alleys of Lisbon, Portugal in the early 1800's. Today, fado has gained itsposition in the World Music circuit. Fado is very much alive not only in Lisbon, Portugalbut also in the US and Canada where many fado performances and fado night eventstake place. Fado music and lyrics can convey feelings of love, joy, sadness, pain passion and loss. This traditional Portuguese music is enjoying a major resurgence, spurred on by UNESCO's designation of fado as "World Immaterial and Cultural Patrimony" The word fado comes from Latin "fatum" meaning "fate" or "destiny". A common theme in fado songs is "saudade". The word "saudade" is difficult to translate in any language. It refers to a longing for a happier moment in a person's life and a yearning and hopefulness towards re-living that moment. Fado is usually associated with the cities of Lisboa and Coimbra in Portugal where it flourished. Fado music is the national song of Portugal. It is very intertwined with Portuguese culture. To truly understand Portuguese culture one needs to experience a Noite de Fados (Fado Night). Lisbon bairros (districts) where fado music flourished include: Mouraria, Alfama, Bairro Alto, Madragoa and Alcantara. Fado singers (male or female) are usually accompanied by a portuguese guitar (12 string guitar) and a viola (6 string acoustic guitar)