​May 2019Noite de Fado - Fado Night

​ Saturday, May 4, 8:00PM
CAMANÉ WITH ANA SOFIA VARELAThe beloved fado singer returns!
to
The Zeiterion Theatre684 Purchase Street, New Bedford, MA 02740

Camané is the leading male singer of the new generation of Portugal's native urban song, fado, ever since his first album came out in 1995 – and one of the few men working within this most tricky field. He is also one of the most outstanding Portuguese singers to have come out of any generation; a voice so smooth and soulful, so passionate and yet controlled, that you wonder how such wise and weary vocal stylings could belong to someone so young. ​
FOR TICKETS
CLICK HERE

His performance at the Zeiterion will feature songs from the scope of Camané's career. With him will be the sensational Ana Sofia Varela for a beautiful evening of fado! Joining Camané on stage will be his talented musicians: Carlos Manuel Proença on classic guitar, Luis Guerreiro on Portuguese guitar, and Marino de Freitas on bass. This performance caps off a day of Portuguese celebration with Viva Portugal, the free, fun festa outside the Zeiterion from 1-7pm.Find out more here. BOX OFFICE: (508) 994-2900Hours:Monday - Wednesday: 10AM - 5PMThursday: 10AM - 7PMFriday: 10AM - 5PMSaturday: 10AM - 3PMClosed Sunday The Zeiterion Theatre684 Purchase StreetNew Bedford, MA 02740 ​ 2019 Fado Festival NY NJ

A celebration of Fado the iconic music that is uniquely Portuguese. ​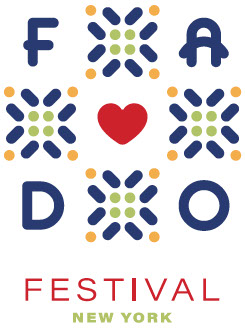 Wednesday, May 1 & Thursday May 2 @ Noon with

Sofia Ribeiro

Brookfield Place New YorkWinter Garden230 Vesey StreetNew York, NY

Friday, May 3 @ 7:30pmwith
Camané&Ana Sofía Varela
Brookfield Place New YorkWinter Garden230 Vesey StreetNew York, NY Saturday, May 4 @ 7:30pmwith
Helder Moutinho&Maria Emília
Pre concert talk at 6pmFado Past, Present and FuturewithLila Ellen Gray Brookfield Place New YorkWinter Garden230 Vesey StreetNew York, NY Sunday, May 5 @ 2:00pm
Portuguese Language Day

Artists, children's programs and music. Produced by Camões, Instituto da Cooperação e da Língua, I.P.
Liberty Hall MuseumKean UniversityUnion, NJ Saturday, May 11 @ 4:30pm
Walking Tour of Newark's Ironbound and Concert

Tickets $30 in advance, $40 day of.Limited availability4:30-6pm walk6pm light food and drinks, Sport Club Português7pm: Fado Concert, Sport Club Português This event takes place rain or shine, unless thunderstorms.
No refunds unless Fado Festival cancels the event. Sport Club Português55 Prospect StreetNewark, NJ 07105 ​ SATURDAYMAY 6, 2017 @ 8:00pm

Camané
with
Ana Sofia Varela

atZeiterion Performing Arts CenterNew Bedford, MA





May 2017Noite de Fado - Fado Night ​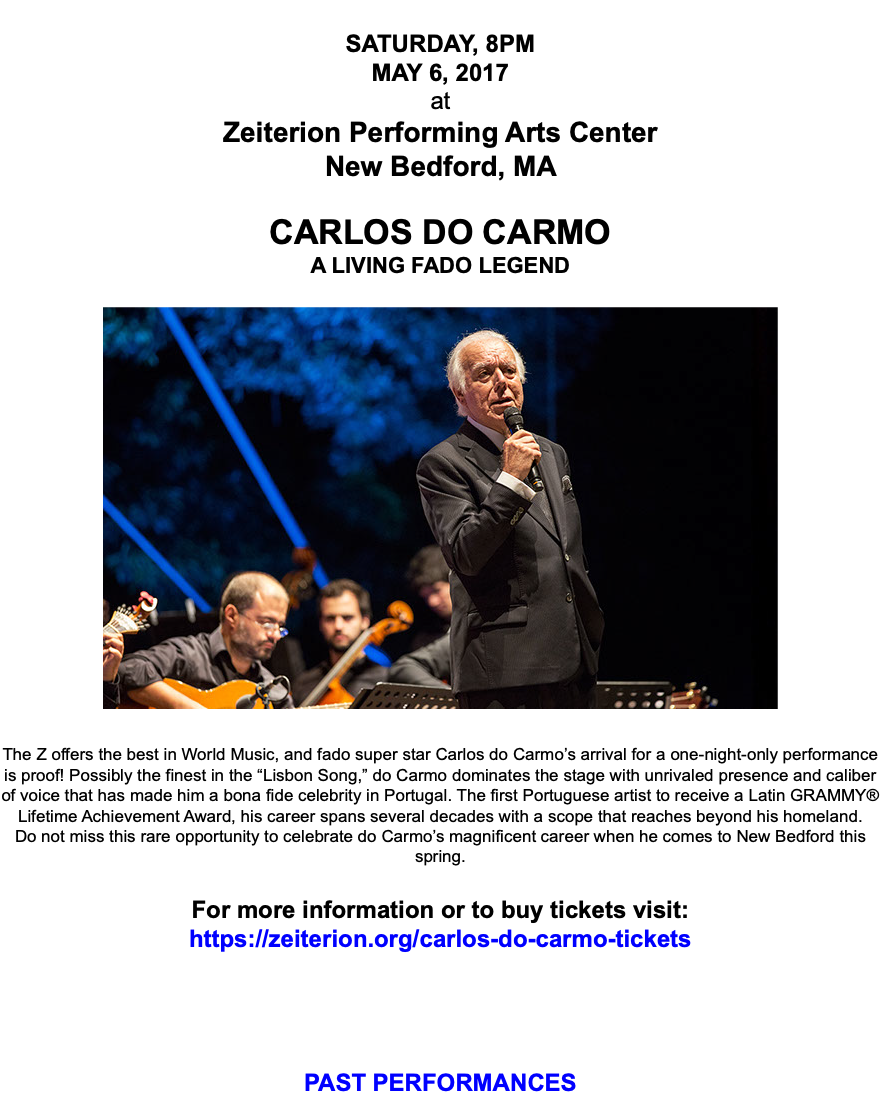 Listen to fado music in Boston area, Cambridge, Fall River, Lowell, New Bedford, Peabody, New Bedford, Newington, Providence ....
​

​
​​

Portuguese Fado, an old form of urban folk music in Portugal, was born in the streetsand back alleys of Lisbon, Portugal in the early 1800's. Today, fado has gained itsposition in the World Music circuit. Fado is very much alive not only in Lisbon, Portugalbut also in the US and Canada where many fado performances and fado night eventstake place. Fado music and lyrics can convey feelings of love, joy, sadness, pain passion and loss. This traditional Portuguese music is enjoying a major resurgence, spurred on by UNESCO's designation of fado as "World Immaterial and Cultural Patrimony" The word fado comes from Latin "fatum" meaning "fate" or "destiny". A common theme in fado songs is "saudade". The word "saudade" is difficult to translate in any language. It refers to a longing for a happier moment in a person's life and a yearning and hopefulness towards re-living that moment. Fado is usually associated with the cities of Lisboa and Coimbra in Portugal where it flourished. Fado music is the national song of Portugal. It is very intertwined with Portuguese culture. To truly understand Portuguese culture one needs to experience a Noite de Fados (Fado Night). Lisbon bairros (districts) where fado music flourished include: Mouraria, Alfama, Bairro Alto, Madragoa and Alcantara. Fado singers (male or female) are usually accompanied by a portuguese guitar (12 string guitar) and a viola (6 string acoustic guitar)