Fado, The soul of Portugal
Find information about fado singers (fadistas)
performing in the US and Canada
(Massachusetts, Rhode Island, Connecticut, New Jersey, New York, California, Toronto, ... )
Portuguese fado events are called: Fado Night or Noite de Fado
FADO of PORTUGAL
Rodrigo Costa Félix
US Tour
Oct 18 – Nov 7, 2013
With:
Marta Pereira da Costa,
Pedro Pinhal, and
local artists and musicians.
The Portuguese fado singer Rodrigo Costa Félix is touring the US in support of award-winning CD, Fados de Amor. This traditional Portuguese music—of love, loss, passion and tradition–is enjoying a major resurgence, spurred on by UNESCO's designation of fado as "World Immaterial and Cultural Patrimony" in 2012.
Rodrigo Costa Félix is one of fado's brightest stars. His second CD, Fados de Amor (Fados of Love), was chosen as Best CD of the Year by Portugal's prestigious Amália Rodrigues Foundation. The Atlantic Monthly called his recent single "Amigo Aprendiz" one of the 12 best ballads of 2012. Although only his 40s, Rodrigo's career spans more than 20 years of professional performance.
Joining Rodrigo are the Portuguese musicians Marta Pereira da Costa, a virtuoso of the Portuguese guitar, and Pedro Pinhal, a veteran of the classical guitar. Marta, a trained classical pianist, recently left her position as a professional civil engineer to pursue the fado full time. Pedro has accompanied and composed music for established and emerging fado singers. Both Pedro and Marta perform on Fados de Amor.
This group has played in Lisbon's most prestigious fado houses and has worked with some of the greatest names in the fado, including Mariza, João Braga and Celeste Rodrigues.
Rodrigo and Marta are available via phone or Skype for interviews in Portuguese or English, individually or jointly. Both are fluent in English.
During the group's visit to the US, they will be holding local, English-language workshops on the fado, visiting Portuguese schools, and meeting with members of local Portuguese-American communities. Many of their performances will include US-based musicians and singers, including the award-winning Nathalie Pires. The tour is part of a not-for-profit initiative that seeks to connect US and Portuguese communities throught the fado.
Media Contact:
David Mendonça
Portuguese/American Cultural Exchange
Phone: (201) 407-0379
E-mail: david@PaceFado.com
Top: Victor Reveredo, Jose Ferreira, Rosa Maria, Jose Carlos
Bottom: Irmaos Lima (Lima Brothers)
​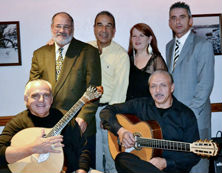 Fadistas
get listed on
Fado Night
Fado Singers - Fadistas
Ana Vinagre, Angela Brito, Carlos Furtado, Carlos Macedo, Catarina Avelar, Cathy Pimentel, Celia Maria, Dinis Paiva, David Silveira Garcia, Elizabeth Maria, Fátima Santos, Jorge Ramos, Jose Carlos, Jeremias Macedo, Josefina Couto, Jose Ribeiro, Kimberly Gomes, Manuel Brandão, Manuel Hilario, Marylou Lawrence, Nathalie Pires, Pedro Botas, Ramana Vieira, Rodrigo Costa Felix, Rosa Maria, Salome Cardinali, Sara Correia, Sonya da Silva, Tony Gouveia, Victor Reveredo, Zélia Freitas