Find live portuguese fado music venues in US. Fado Night features restaurants and other venues hosting live Portuguese fado music events, fado nights (noite de fado) or concerts in the US and Canada.
Massachusetts, Rhode Island, Connecticut, New York, New Jersey, California, Kansas .... Toronto, Ontario, Mississauga and more.
​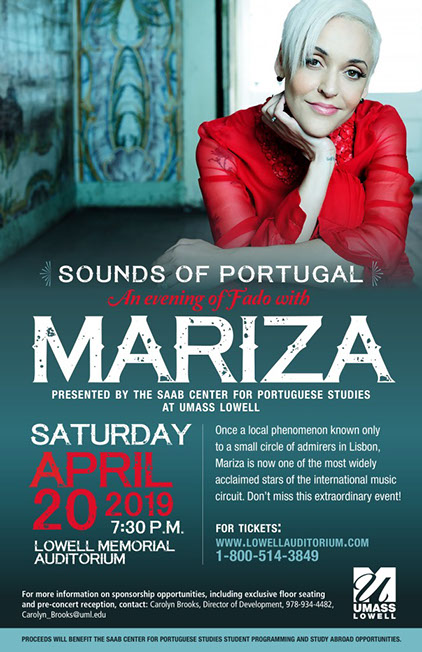 CITY WINERY PRESENTS:
AN INTIMATE EVENING WITH MARIZA & SPECIAL FRIENDS
NARROWS CENTER FOR THE ARTS
FALL RIVER, MA
Sunday, November 12th
Event link: https://narrowscenter.ticketfly.com/event/1589544
Ticket link: https://www.ticketfly.com/purchase/event/1589544
Tickets for Saturday, Nov 11 SOLD OUT
​ Sounds of PortugalA Concert byJoana Amendoeira and Duarte Durgin Concert Hall35 Wilder St, Lowell, MA 01854Friday, November 3, 2017 at 7:30 PM ​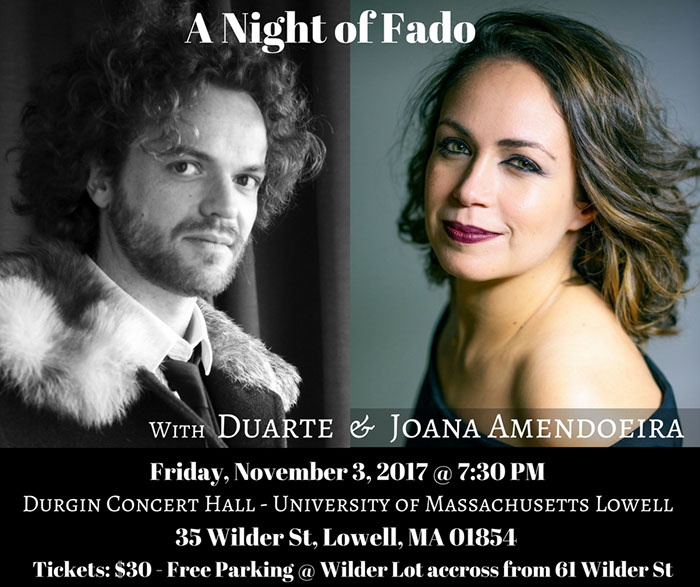 Joana is one of the best-known fadistas today, with nine highly acclaimed CDs and critical recognition from the Amália Foundation, among others. This will be her first official US visit. Duarte is a singer, musician and lyricist, who was recently featured on Public Radio International. He returns to UMass Lowell after a great performance in 2014. Joana and Duarte will be accompanied by two top-flight musicians:Pedro Amendoeira on the Portuguese guitar and Tiago Silva on the viola.Both are veterans of the fado, having played extensively within Portugal and internationally with artists such as Mariza, Maria da Fé and Camané. You may purchase tickets at www.alumni.uml.edu/fadoFor questions, contact the Saab Center at 978-934-5199
​ Saturday, May 6, 2017 @ 8PMZeiterion Performing Arts CenterNew Bedford, MA CARLOS DO CARMOA LIVING FADO LEGEND ​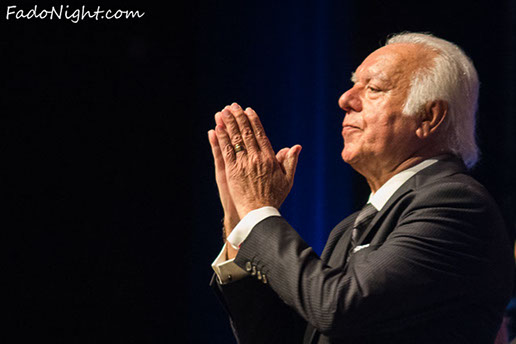 The Zeiterion Performing Arts Center unites with top Portuguese cultural organizationsto create a weekend of Portuguese cultural celebration! CONVIVER COM CARLOS DO CARMOA FUNDRAISER WITH CARLOS DO CARMOFriday, May 5, 7:30-10:00 p.m. VIVA PORTUGAL!A DOWNTOWN FESTA at THE ZEITERIONSaturday, May 6, 1:00-7:45 p.m. CARLOS DO CARMO IN CONCERTSaturday, May 6, 8:00 p.m. (New Bedford) –The Zeiterion Performing Arts Center and a coalition of Portuguese cultural organizations are proud to present a weekend of programming that will celebrate the art and culture of Portugal on May 6 and 7! It begins with a vibrant fundraiser "Conviver Com Carlos do Carmo" on Friday, May 5 from 7:30-10:00pm. Guests will have the opportunity to mingle with Carlos do Carmo and enjoy Portuguese food and drinks. Tickets: $35. The celebration continues Saturday, May 6 with Viva Portugal, a downtown New Bedford "festa" or street fair, from 1:00-7:45 p.m. This free, family-friendly event will feature four city blocks, centered at the intersection of Purchase and Spring Streets, filled lively Portuguese culture and entertainment. As Viva Portugal winds down, audiences will transition inside the theater for a concert of Portuguese fado music by the Latin GRAMMY® Lifetime Achievement Award-winning Fado performer, Carlos do Carmo at 8:00 p.m. Concert tickets: $35-$59. The Viva Portugal festa is free, and the tickets for the fado concert and fundraiser are available at www.zeiterion.org, 508-994-2900 or at the Zeiterion box office, 684 Purchase Street, New Bedford. The Zeiterion Performing Arts Center is located in New Bedford, the heart of the Southcoast's Portuguese population. The area is also home to a host of Portuguese cultural organizations, all of whom produce events and programs that create a strong cultural identity for the area and its residents. "Last year, The Zeiterion united Portuguese cultural groups for the first time to create the tremendously successful inaugural Viva Portugal. This year, the group has grown even more robust! Along with The Zeiterion, these twelve Viva Portugal partners are returning to continue this showcase of the best local and international Portuguese culture," said Rosemary Gill.The festivities begin on Friday, May 5 at 7:30 p.m. with a wine and cheese fundraiser "Conviver com Carlos do Carmo." Guests will mingle with fado legend Carlos do Carmo, enjoy the music of Tres Primos, as well as a charming performance of a classic Carlos do Carmo songs by the students from The Discovery Language Academy. While there, guests can enter the raffle to win a trip to Portugal, courtesy of Azores Airlines and Sagres Vacations! Proceeds benefit the Discovery Language Academy and The Zeiterion Performing Arts Center. Tickets are $35. The next day, Saturday, May 6 from 1:00 to 7:45 p.m., Viva Portugal will return for a second year! This downtown New Bedford festa will showcase the food, performing arts and folkloric culture of Portugal. The streets around the Zeiterion will come alive with music, cooking demonstrations, art exhibits, roaming performers, parade floats, food vendors, café tables, whale boats, craft vendors, classic Portuguese decorations, and kid's activities. Viva Portugal highlights include:Cooking demonstrations by Portuguese cooks includingNew Bedford Police Chief Joseph Cordeiro New Bedford Fire Chief Michael Gomes, and chef Kristen Davis.Authentic music and dance of Portugal with Ilhas Brumas, Senza, Tres Primos and the Madeiran folkloric dance groupGrupo Folclorico do Clube Madeirense S.S. Sacramento, among many others."The Best Sweetbread of the Southcoast Contest" where audiences will test samples and vote for their favorite bakery.An exhibit and talk by award winning photographer Peter Pereira.Classic Portuguese foods like caçoila and linguica sandwiches, malassadas, cod fish cakes, and favas provided by Portuguese food vendors Portu-galo, Tia Maria's, Day of Portugal, Feast of the Blessed Sacrament and The Two Sisters.A display of the Azorean whaleboat "Pico" by The Azorean Maritime Heritage Society.Decorations and parade floats by Club Madeirense S.S. Sacremento, also known as "The Feast."A performance of excerpts from the book "Through a Portagee Gate" – an endearing tribute to a Portuguese immigrant cobbler, by actors from Bristol Community College and Culture Parkl As the Viva Portugal festa concludes at 7:45 p.m., audiences will be ushered into The Zeiterion's theater by a parade of folkloric dancers, to see the internationally-known fado legend Carlos do Carmo in concert at 8:00 p.m. With a 50-year career and millions of albums sold, this 77 year-old Fado performer was the first Portuguese artist to receive a Latin GRAMMY® Lifetime Achievement Award. Tickets for the Carlos do Carmo concert start at $35. The Viva Portugal partner groups include the Azorean Maritime Heritage Society, Club Madeirense S.S. Sacremento, Consulate of Portugal in New Bedford, House of the Azores of New England, New Bedford Day of Portugal, Portuguese United for Education, the Prince Henry Society of New Bedford, and Tagus Press, Center for Portuguese Studies, UMD,The Fishing Heritage Center, LuzoCentro of Bristol Community College, Ferreira-Mendes Portuguese American Archives at UMD. Additional partners include The City of New Bedford, and The New Bedford Whaling Museum. "Viva Portugal," a celebration of Portuguese art and culture, is a free event.Tickets for the "Conviver com Carlos do Carmo" fundraiser and "Carlos do Carmo in Concert"are available for purchase at www.zeiterion.org, by calling 508-994-2900, or in personat the box office at684 Purchase Street, New Bedford, MA.Box Office Hours: Tuesday-Friday, 10:00 a.m. to 5:00 p.m.,Saturday 10:00 a.m. to 3:00 p.m.and two hours before each performance. For tickets visit:https://zeiterion.org/carlos-do-carmo-tickets
Cocktail
Listen to fado music in Boston area, Cambridge, Fall River, Lowell, New Bedford, Peabody, New Bedford, Newington, Providence ....
​

​
​​ Portuguese Fado, an old form of urban folk music in Portugal, was born in the streets and back alleys of Lisbon, Portugal in the early
1800's. Today, fado has gained its position in the World Music circuit. Fado is very much alive not only in Lisbon, Portugal but also in the US and Canada where many fado performances and fado night events take place. Fado music and lyrics can convey feelings of love, joy, sadness, pain passion and loss. This traditional Portuguese music is enjoying a major resurgence, spurred on by UNESCO's designation of fado as "World Immaterial and Cultural Patrimony" The word fado comes from Latin "fatum" meaning "fate" or "destiny". A common theme in fado songs is "saudade". The word "saudade" is difficult to translate in any language. It refers to a longing for a happier moment in a person's life and a yearning and hopefulness towards re-living that moment. Fado is usually associated with the cities of Lisboa and Coimbra in Portugal where it flourished. Fado music is the national song of Portugal. It is very intertwined with Portuguese culture. To truly understand Portuguese culture one needs to experience a Noite de Fados (Fado Night). Lisbon bairros (districts) where fado music flourished include: Mouraria, Alfama, Bairro Alto, Madragoa and Alcantara. Fado singers (male or female) are usually accompanied by a portuguese guitar (12 string guitar) and a viola (6 string acoustic guitar)